Competition Finals (2)
This was an outstanding weekend for local bowls, with two finals taking place – the Oddfellows Rose Bowl on Saturday 2nd September and the Duncomb Shield on Sunday 3rd September. Both finals were hotly contested, with a very high standard of play. Even the weather co-operated and contributed to making the atmosphere on both occasions everything that is best about outdoor bowling, for bowlers and spectators alike. The League thanks Blackstones Bowls Club and Bourne Town Bowls Club for hosting these two events and helping to make both finals so memorable.
Oddfellows Rose Bowl
The final was played between Blackstones and Oakham at Blackstones Bowls Club. The competition was fierce between the two teams, with Blackstones being the eventual winners, beating Stamford by 59-45.
On Rink 1, Wayne Morris, Darren Russell and skip Sam Downs (Blackstones) faced Graham Scothern, Paul Jenkinson and Ray Gregory (Oakham). Blackstones took advantage of playing on their home green to forge ahead until they were 11-2 up after 8 ends. Then Oakham began to fight back, scoring 2 on each of the next three ends. With the score at 12-8 to Blackstones, skip Sam Downs swapped with Wayne Morris to try to slow down Oakham's progress and it worked – just! With a dead end in the sixteenth, Blackstones managed to hold on to their lead to win by the closest of margins, 14-13.
Rink 2 saw Rita Downs, Mal Smith and Darren Middleton (Blackstones) playing Eddie Owen, Denis Smith and Stuart Primarolo (Oakham). The Blackstones team dominated throughout the match, in spite of Oakham's skip taking out 4 of their opponent's shots in the 4th end and Oakham resorting to shorter jacks whenever they had the opportunity. Blackstone's victory was sealed by a 5 in the 16th end, with the final score being 23-12.
There was no such thing as home advantage on rink 3, with the Oakham team of Graham Cole, Matthew Murrant and Paul Murrant storming ahead to a lead of 10-2 after 6 ends over Blackstone's Dusty Miller, Mike Owen and Terry Smith. Blackstones had to dig deep to come back, bringing the score to 9-10 by the 9th end. Oakham dominated the next five ends, so that they were 20-10 up after 14 ends. Then it was Blackstones turn, increasing their total, so that after the 17th (penultimate) end the score was 16-20 in Oakham's favour but, in a killer final end, Blackstones scored 6, giving them a winning total of 22-20.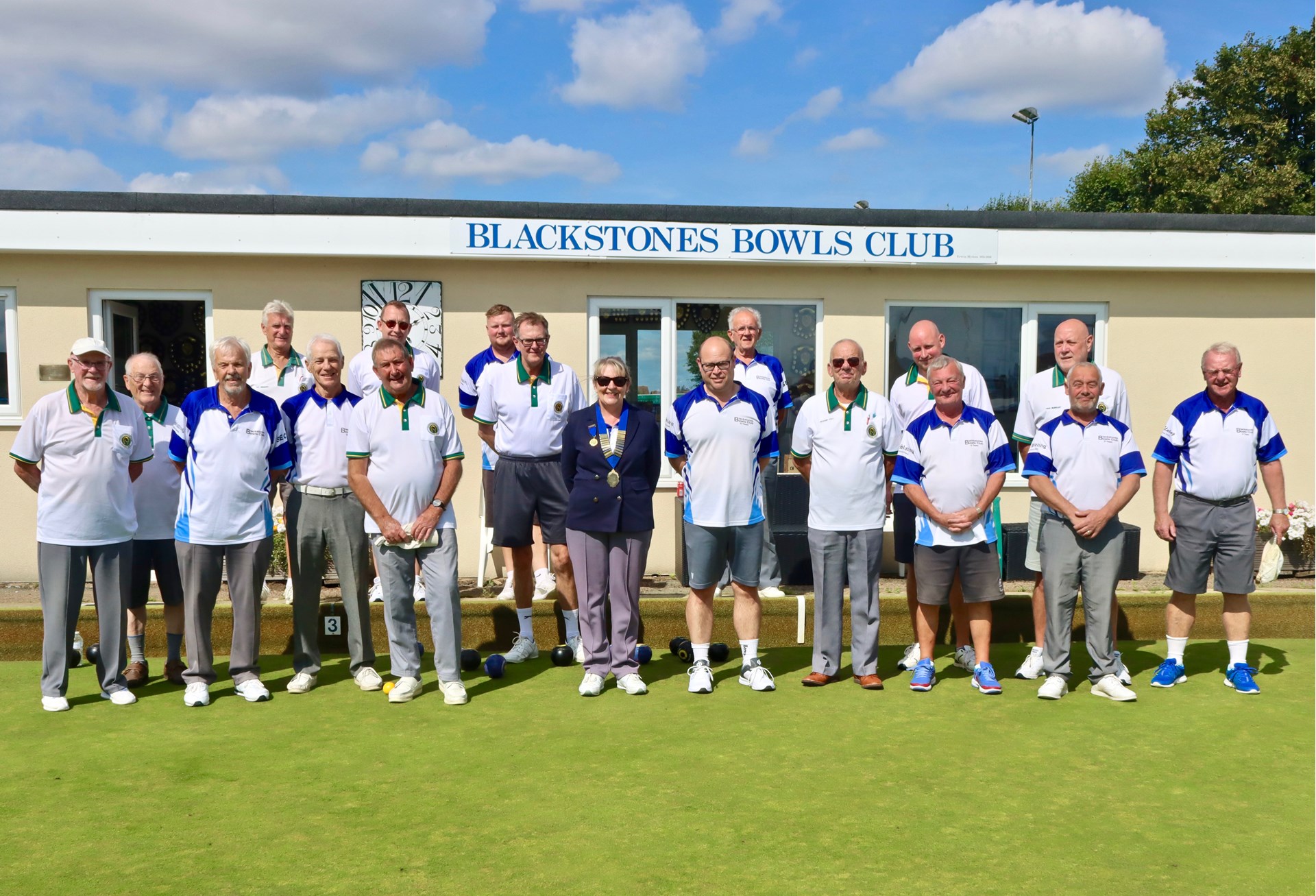 Duncomb Shield
The final of the Duncomb Shield was played at Bourne Town Bowls Club. There were eight teams in the final who played in a round-robin format: Greetham Monarchs, Wittering A, Greetham Valley B, Market Overton C, Empingham, Wittering B, Stamford Town B and Greetham Royals. The teams selected 3 out of 4 named players for each 6-end game.
Market Overton C won their first four games (of 7) accumulating a total of 28 points out of a possible 36, putting them 4 points ahead of their nearest rival, Wittering B. However, they thought they had blown it after losing their 5th and 6th games, with Empingham creeping one point ahead on 34 points to Market Overton's 33. Empingham suffered a heavy loss in their final game, whereas Market Overton scored 6 points, bringing their total to 39 points and making them the overall winners.
Runners-up were Wittering B, who won 4 of their 7 games, scoring a total of 36 points. They were closely followed by Empingham and Stamford Town B, both on 35 points, with Empingham just edging ahead on score difference.