Duncomb Shield Competition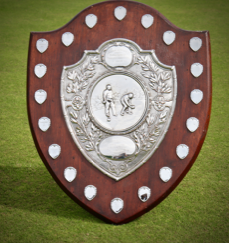 The Duncomb Shield is competed for annually between pre-entered teams who are sole representatives of their registered league team and remain together in every round of the competition.
Format:
Each team shall consist of FOUR players, playing any combination of 3 from 4.
Each match will comprise 21 ends (plus 2 trial ends) of two-wood triples played on a knock-out basis, to EBF rules, until only eight teams remain to compete in the final of the tournament.
All matches to the date of the final will be played on the greens of the home-drawn team, with play-by dates (to be decided) for each stage.
Duncomb Shield Draw 2023
This year there will be 13 teams competing. The matches will be played in three groups according to the schedule given: Group A - 5 teams, Group B - 4 teams, Group C - 5 teams.
Each team will play round robin matches of 21 ends (plus 2 trial ends) in the three pools, with captains to arrange mutually convenient dates.
For those teams with additional commitments, play-by dates can be extended on request.
The eight teams for the final will be selected as follows:
* 3 Teams from Group A
* 2 teams from Group B
* 3 teams from Group C
Final:
The format will be 8 teams playing a round robin. Any changes to team players can only be made BEFORE each game commences.
Games will be 6 ends of 2 wood triples with 3 points for a win, 2 for a draw and 1 point for each end won, playing to EBF rules.
The overall winner will be determined by the number of points won; if teams are equal, shots for will be calculated and if they are still equal the result of the game between the 2 teams will be the decider.
All other decisions will be made by the Competition organiser and will be final.
As we now play the final in the afternoon, as opposed to all day, the schedule is tight and we should be finished playing by 6.45pm when the light will be starting to fade.
In 2023, the final will be played at Bourne Town Bowls Club on Sunday 3rd September, starting at 2.00 pm.
The winning team will be presented with the Duncomb Shield, to be held for one year.
For full details, see the 'Duncomb Shield' tab under 'League Rules'.