Boor & Wainwright Shield Competition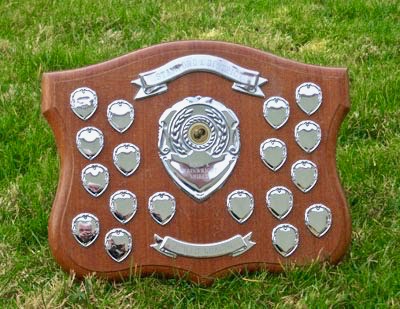 The Boor & Wainwright Shield is competed for annually by all the teams registered in the Stamford & District Bowls League.
Format:
Two teams of 9 registered players compete on three rinks, playing 21 ends (plus 2 trial ends) of two-wood triples to EBF rules. The teams are handicapped according to their positions in the league divisions at the start of the season.
The first stage is a round-robin, with teams drawn in groups. For 2023, there are 4 groups, each with 7 teams. Each team plays every other team in the same group once, at the green of the home-drawn team.
The top eight teams go forward to the quarter finals. The quarter finals and semi-finals are played on a knock-out basis, with play-by dates (to be decided) for each stage.
For 2023, the top 2 teams in each of the 4 groups will go forward to the quarter finals. The draw will be published after all the results have been entered.
Reminder: Having once played in any round of the competition a player shall then be "cup-tied" to any other competing team. Players registered for another team within the club are not eligible.
Final:
The final will be played at Langtoft Bowls Club on Sunday 27th August 2023 at 2.00 pm.
The winning team will be presented with the Boor & Wainwright Shield, to be held for one year.
For full details, see the 'Boor & Wainwright Shield' tab under 'League Rules'.